What's the best drum set under 1000 bucks?, and who makes it? Find out who's producing the exceptional value for the dollar as we review three of the favorite mid-level sets on the market!

What's The Best Drum Set Under $1000, And Who Makes It?
Popular Drum Sets at a Glance:
| | | | |
| --- | --- | --- | --- |
| Product | Feature Image | Editor's Rating | Relative Price |
| #1 Best Value Under $1000 | | 4.5 / 5 | $$$ |
| #2 Best Electronic Kit | | 4.6 / 5 | $$$ |
| #3 Best Shell Pack | | 4.6 / 5 | $$$$ |


For a new or intermediate percussionist, following in the footsteps of your favorite drumming influencers and inspirations is a natural next step.
If you want to reach that same level of performance and vibe as the those you admire, you want to have your own set at home. Having said that, what exactly are you getting when looking for the best drum set under 1000?
In this article, we'll help you live your dream by reviewing three of the most popular mid-level drum sets that fit a larger budget. We'll look their manufacturers, features, pros, and cons to help you decide which one to go for.
We certainly hope you benefit from the information we provide in this article! Just so you know, we may receive compensation if you use the links on this page. If you do, thank you so much!





Top 3 Popular Premium Kits In Review






1. Best Value Under $1000: Pearl Roadshow 5-Piece Drum Set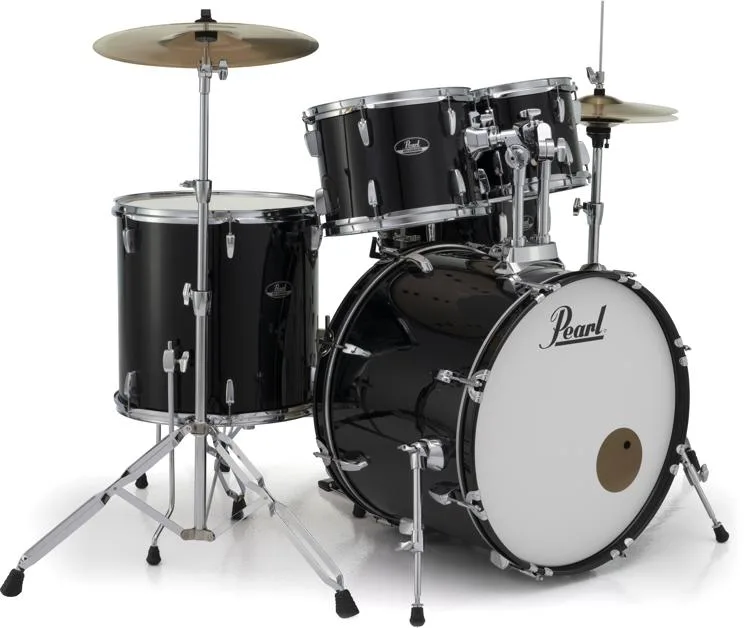 Pearl Roadshow 5-piece Complete Drum Set with Cymbals – 22″ Kick


The Pearl brand offers drum sets models at all price points and enjoy a high user-satisfaction rating. Being a popular choice amongst musicians with a more frugal budget mindset, they're easy on the pockets, and certainly on par with the most high-end brands.


Pearl Roadshow Features
The Pearl Roadshow Drum Set is ready to go straight out of the box. With its 9 ply poplar, 7mm shells, you can expect a highly durable drum set. The drums sizes included are: 22″x16″ bass drum, 16″x16″ floor tom, 10″x8″ tom, 12″x9″ tom, and 14″x5.5″ snare drum.
Again, the major benefit here is that it's a complete set. You get a double-braced cymbal, hi-hat, and snare stands along with some great accessories such as a stick bag, sticks, and a poster!
Featuring sturdy build quality produced by a recognized brand, it makes a great set for both beginners and professionals, or a great set for dedicated practice and honing your skills.






Pearl Roadshow 5-Piece Drum Key Points


What We Like
Poplar shell construction
Highly durable
5 piece kit
Ready to use right out of the box
Comes with additional hardware including cymbal, snare stands, sticks, and a stick bag
Great for eager beginners thru to professionals


What We Don't Like
Setup can take about 2 to 3 hours
Doesn't include instructions in the box, you have to visit their website to get them
Cymbals could be better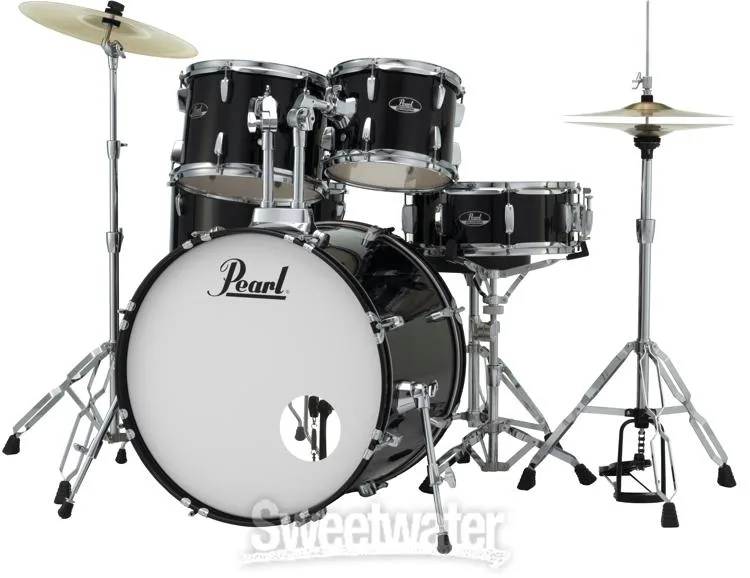 Manufacturer Info:
Website: http://pearldrum.com/






2. Best Electronic Kit: Roland V-Drums TD-1DMK Electronic Drum Set





Roland V-Drums TD-1DMK Electronic Drum Set


Roland Corporation is a diverse Japanese manufacturing company that has been distributing musical instruments since 1970. They're also very well-known for their superior quality digital recording equipment.
As Roland has continued to innovate to meet the growing needs of the evolving public, they consistently offer a wide variety of electronic drum sets and digital percussion equipment, one of which is the TD-1DMK electronic drum kit.




Roland V-Drums Features
The Roland TD-1DMK Electronic Set has an overall width of 1200 mm (47.2″), a height of 1250 mm (49.2″), and depth of 1100 mm (43.3″). Approximately, the total weight is at 22 kilograms (48.5 lbs).
The brain is equipped with a large LCD screen that has an icon-driven user interface featuring a USB function that enables you to connect to your computer. You can save your customizations in WAV or MP3 format, then playback your own sounds you played on the kit.
This drum set features an integrated CY-5 cymbal pad hi-hat with a 10 inches playing zone providing a natural swing movement, plus bell and edge triggering that's separated.
Roland also incorporated an FD-8 model Hi-Hat Controller that provides drummers an authentic hi-hat sound as well as the ability to smoothly transition from open to closed positions.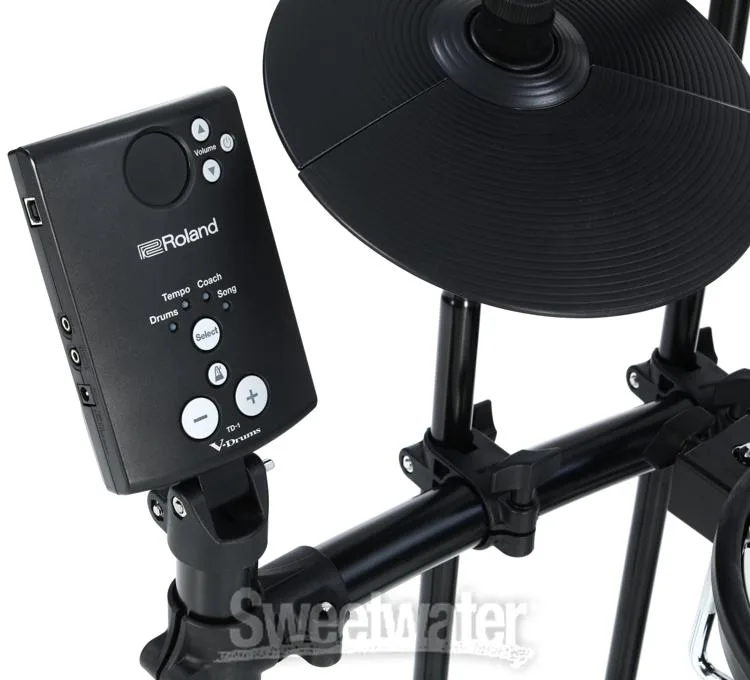 The snare drum has a patented dual-triggering technology called PDX-8 mesh V-Pad. With this, there would be a balanced and accurate sensing between the rim and the head. Since the rim measures 10 inches, the resulting rim shots would be comfortable to the ears and noiseless.
Additionally, the toms are made of a durable, time-tested, 8.5 inches PD-8A rubber pad which gives a highly accurate triggering.
Further enhancing the drum set's performance, the head of the bass drum is loaded with new mechanics and is cloth-designed.
The KD-9 dual kicking pads or pedals are designed to provide the player with comfortable usage, great feel, and solid playability. This also gives out a dynamic response with accurate triggering.




For even more solid performance and enhanced playability, this drum set has a SuperNATURAL-powered Sound Module, ensuring sounds are as natural and expressive as possible.
The module also has Quick Record or Quick Play and data storage functions. In addition, it also has a COACH mode that you can use if you are trying to improve your drumming skills or just starting out on the drum kit.
Upon purchasing, you'll get three drumsticks, audio cable, polishing cloth, and user's manual. If you're in the USA, you'll also get an MDS-4V drum stand, which has a V-Compact and space-saving design.


Roland V-Drums TD-1DMK Electronic Key Points


What We Like
Known for quality and realistic sound
Very well positioned
Easy to use
Comes with training features
Incredible control over every sound nuance
Perfect electronic kit for beginner to professional


What We Don't Like
Doesn't have a chrome rack feature
Sound range can be limited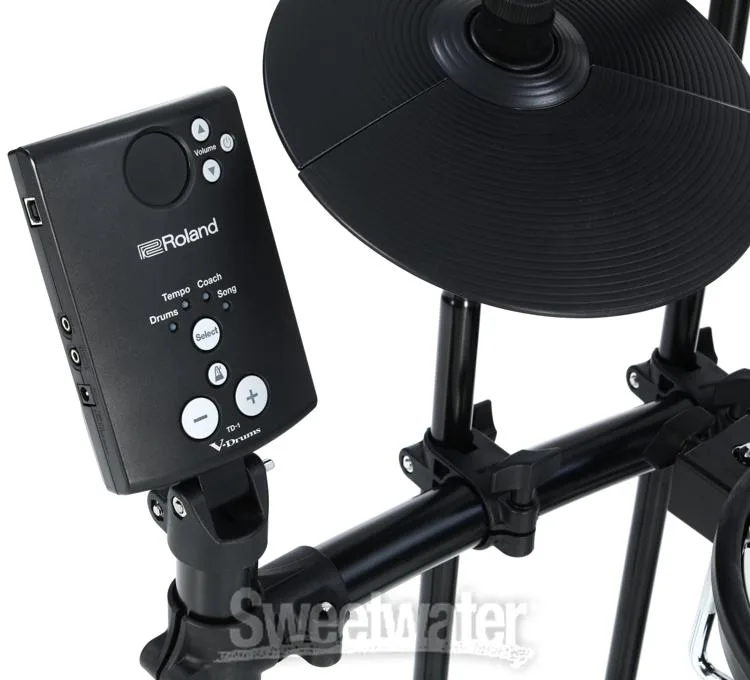 Manufacturer Info:
Website: https://www.roland.com/global/






3. Best Shell Pack: Yamaha Stage Custom Birch 5pc Drum Shell Pack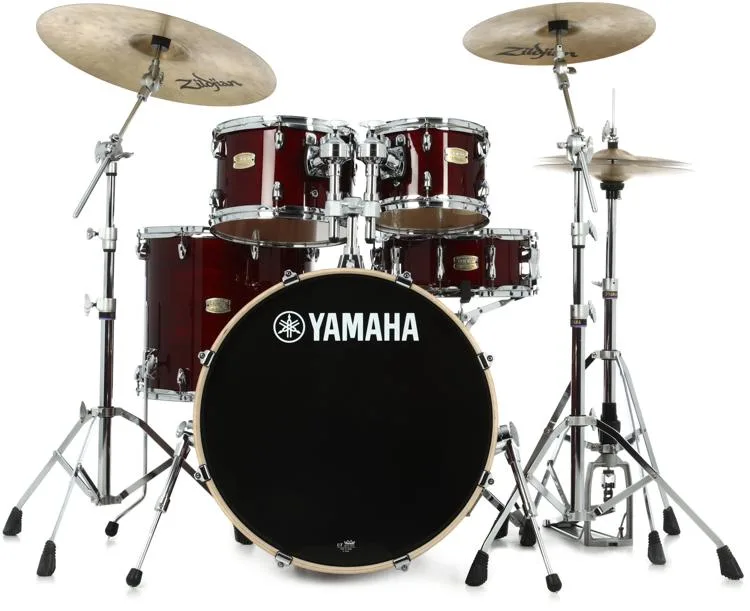 Yamaha Stage Custom Birch Shell Pack – 5pc – Cranberry Red


The Yamaha Stage Custom Drum Shell Pack features beautifully resonant birch construction, which is stellar material for both stage kits and an in-studio drum sets.
The Stage Pack from Yamaha is the second version of this style of the kit, and seeks to make improvements in all areas, producing even more spectacular sound with the aid of a full set of solid and durable 780 series hardware.





Yamaha Stage Shell Set Features
The drums project a crisp attack and an open sound on each shell, made even better thanks to the added resonance offered by the Yamaha Enhanced Sustain System.
Other value-added hardware bonuses include die-cast claw hooks, ball mounts, and clamps that are treated with resin to keep extra noise and rattling at a minimum.
Conveniently, Yamaha Stage kits include bass drum legs that have in-built stoppers. These make tear down and set up quicker and easier whenever you need to move to a new gig.




This is a great intermediate priced drum set. Truthfully, it could be an excellent component even if you have a $3,000 recording set-up, plus it's priced reasonably.
One major difference between the Yamaha Stage custom pack and an expensive kit is its low-mass lugs versus common hi-tension lugs seen in high-end models.
In reality, this is a mass-production set that is made in China, as opposed to made in Japan, which for most people can be perceived as a turn-off.
But you can take comfort in the fact that Yamaha's quality control is top-notch, even their mass-market models consistently feature superior quality.


Yamaha 5-Piece Stage Drum Shells Key Points


What We Like
Superior quality not found in similar kits
Excellent value for the price
Drum shells deliver a great sound with solid composition
Wide resonance and sound dispersion
Durable shell hardware
Works for many musical styles


What We Don't Like
May be less of an upgrade for a midrange kit
The shells don't put out the extreme lows and highs for some tunings
May not suit a highly specific player
Takes some time to adjust to full sound potential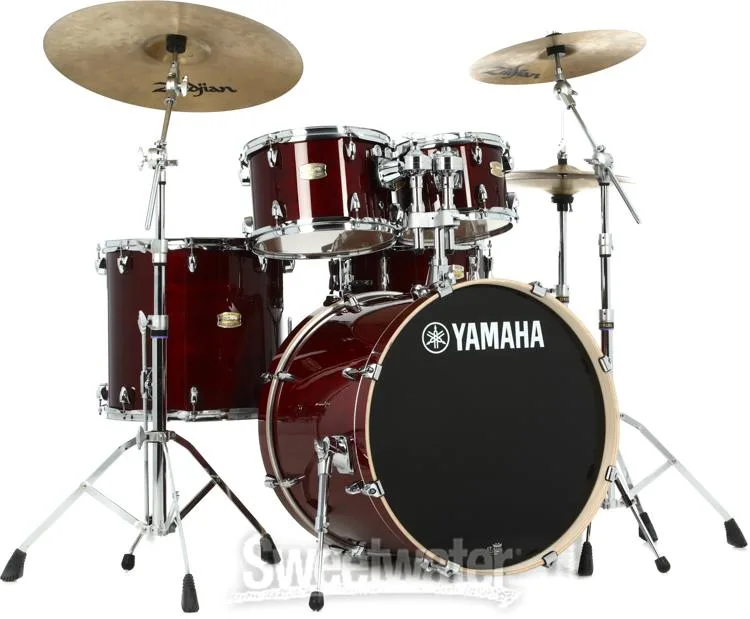 Manufacturer Info:
Website: https://www.yamaha.com/






Compare these featured drum kits under 1000:


Best Overall Pro Set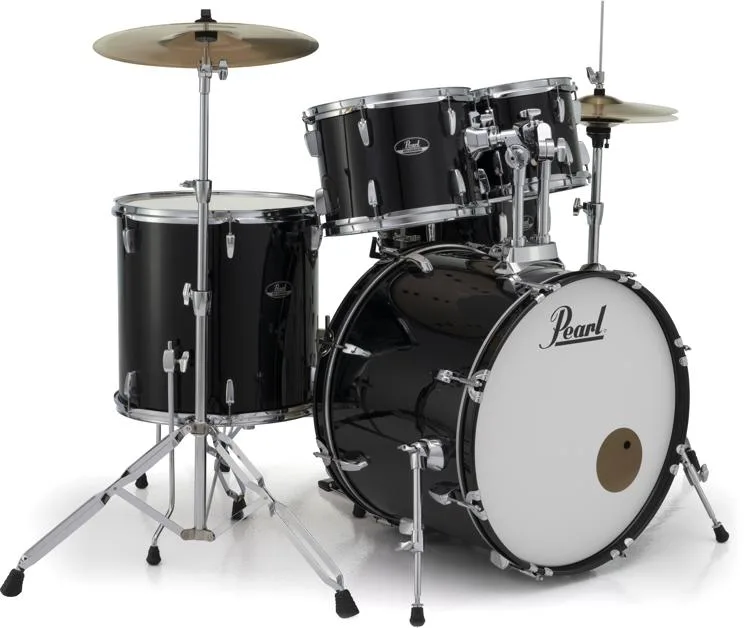 Pearl Roadshow 5-piece Complete Drum Set
---


Best Pro Electric Set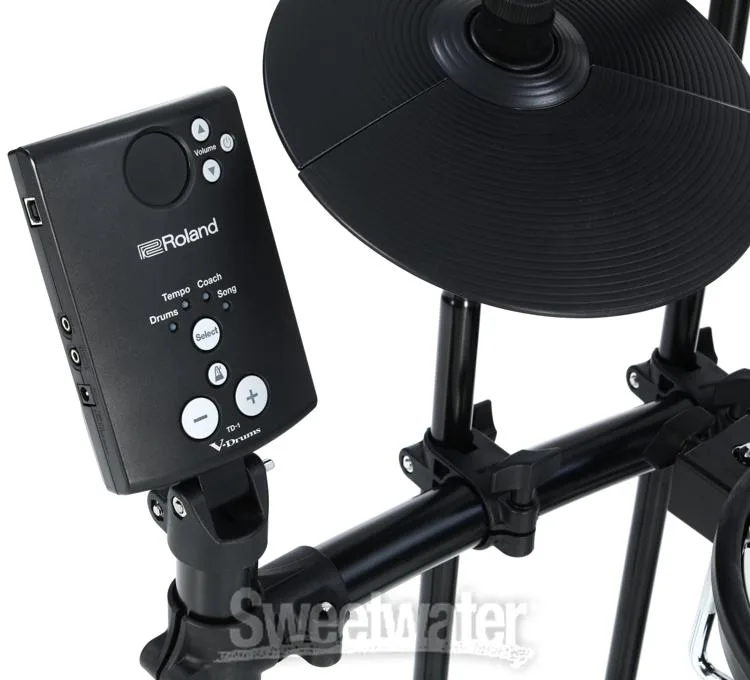 Roland V-Drums TD-1DMK Electronic Drum Set
---


Best Pro Shell Pack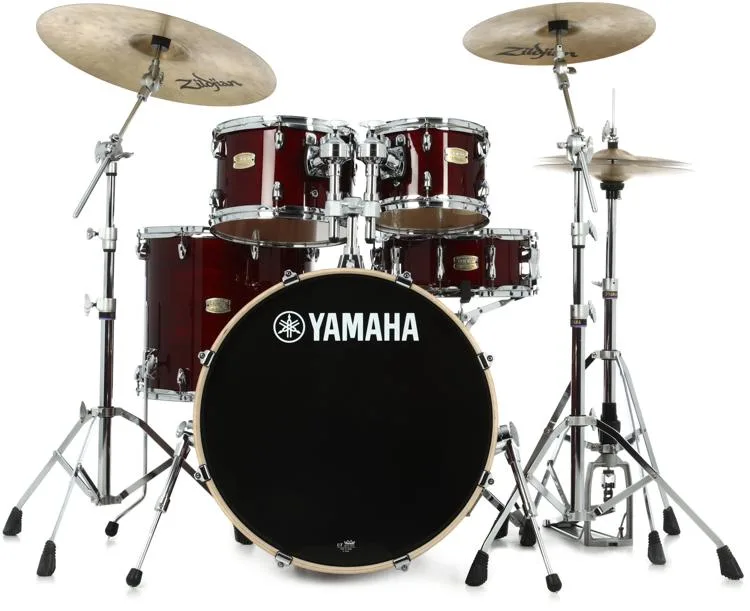 Yamaha Stage Custom Birch Shell Pack
---





Summary and Recommendations
Among these selections, the best drum set funder $1000 for the intermediate player is the affordable, Japanese-made Pearl Roadshow 5-Piece Drum Set.
It comes with everything you need right out of the box, and great company support. It's a great mid-level kit that will last you years!
If total flexibility combined with all the bells and whistles is more your thing, the Roland V-Drum kit is clearly the winner considering it's professional reputation and durability.
Finally, the Yamaha 5-Piece Stage Birch Shell Pack can by no means be underrated. If you want a rock solid base to build on, Yamaha's outstanding quality is your pick.
Of course you'll have to consider the extra expense of additional hardware and components.


Editor's Pick!
Pearl Roadshow 5-Piece Drum Set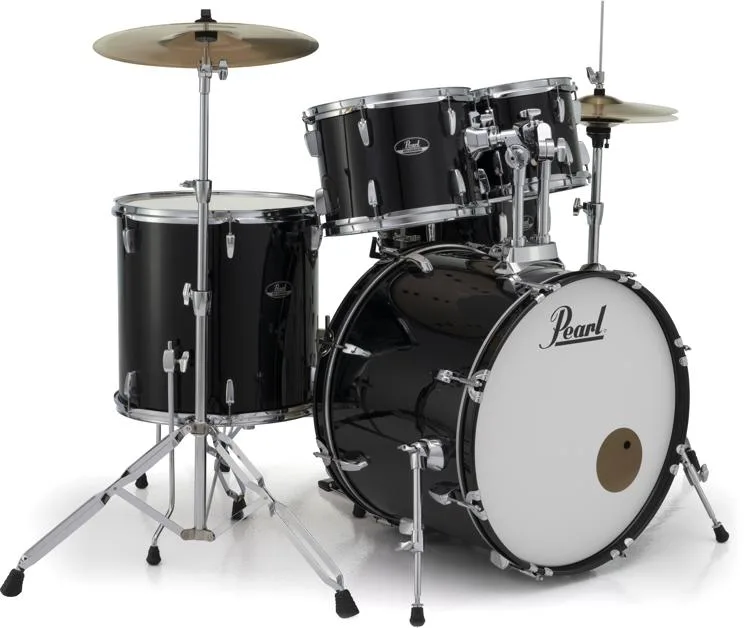 What Do Pearl Roadshow 5-Piece Set Players Think? >>


Editor's Rating:
4.5