Some great electronic drum pads at a glance:
For any music enthusiast, not having enough space at home for their chosen musical instrument is a bummer. If you happen to like playing drums, then the most often issue you encounter is not having enough space for your instrument.
An alternative for you is to use an electronic drum set instead of the traditional one. It is recommended that you research the best electronic drum pad available before you make any purchase.
We rounded up three of the best ones available right now as well as its corresponding advantages and disadvantages.

Top 3 Best Electronic Drum Pads Reviewed


1. Jacksoo Portable Drum Kit
Jacksoo Portable Roll Up Drum, Electronic Digital Drum Pad Kit Musical Practice...
PORTABLE AND PROFESSIONAL DRUM: Includes 1 SNARE, 3 TOMS , 1 CRASH, 1 RIDE, 1 HI-HAT; 2 Foot Pedals play sound of Bass Drum;
Clear Sound and Quite -- Excellent audio transmission technology make the electronic drum can play real sounds without other noise when connecting speaker.
EARPHONE JACK: when you waering eaphone, not only do they make practice quieter, but electronic drums also make practicing more efficient, perfet for privite practice or late night playing
First up is the portable electronic drum kit from Jacksoo. This device is perfect for kids and beginners. It is also a great starter set for those who want to learn how to play the drums and a great practice instrument to improve on playing the drums.
This kit includes different settings that mimic drums such as snare, toms, crash, ride, and hi-hat. It also comes with two-foot pedals.
Aside from its various settings, it also produces clear sounds even when connected to a speaker. As you know, sometimes sounds transmitted can get garbled or distorted when a speaker is used.
The Jacksoo Portable Drum Kit comes with an earphone jack, so there is no need to be wary of disturbing others. You can practice all day every day without worrying about making too much noise.
It is also such a space-saver because you can easily roll it up and store. Whether you are on a road trip or in your own space, you can easily play the Jacksoo portable drum kit with ease.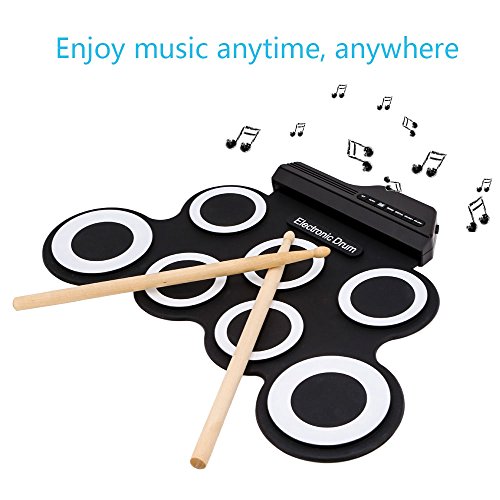 Pros
:
Great for beginners and kids
Portable and easy to carry
Space-Saver
Clear and great sound quality produced
Comes with an earphone jack
Cons
:
Doesn't come with a speaker


2. Aufitker Electronic Drum Kit
Next on our list is Aufitker's Electronic Drum Kit. This particular kit has nine drum pads that produce a variety of sounds that included high tom, cymbal, snare, hi-hat, low tom, and ride cymbal. The drum pads also mimic realistic sound quality and effects. It is a favorite and recommended for children and even adults.
Another great feature of the Aufitker's kit is that you can record beats and music. You can then upload the recording to a computer, and do a lot of cool stuff with it. You can manipulate and edit beats or just play it back for sound practice.
The thick drum pad can also be rolled for easy storage or travel. The drum kit has two pedals, its own power supply, drumsticks and built-in speakers. So when you purchase this product, you are ready to play and practice to your heart's content.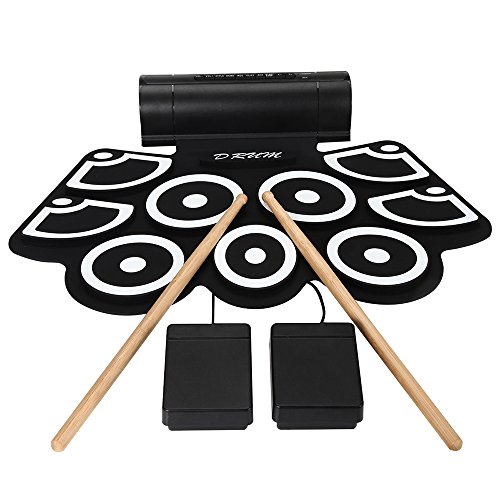 Pros
:
Quality drum pads that produce clear tone and sound
Drum pads can simulate a variety of sounds
Ability to record beats and music
Built-in speaker
Complete accessories included
Portable and easy to store
Cons
:
Plays good music but don't expect the real thing


3. Everyone Gain Roll-up Drum Kit
Roll-Up Drum Kit Portable Electronic Drum Set with Rechargeable Battery Foot...
Four power supply (A: USB5V B: three AA batteries C: BL-5C lithium battery D: power adapter power supply)You can enjoy the electronic drum anytime, anywhere, are you still worried about the power supply? C batteries required (best with Polaroid C batteries)
The standard drum settings, pedal expansion interface to bring you the real shelf drum to enjoy.TEN Drum Surface: 2 x Crash cymbal, 1 x Ride cymbal , 1 x Open Close Hi-Hat,1 x Bass,1 x Hi-Hat, 1 x Snare, 3 x Tom; 2 x Foot Pedals (include 1 x Hi-hat, 1 x bass drum)
Standard parameters,compact fashion,9 demo songs,11 accompaniments,3 drum sounds inside switch freedom.Include recording function,volume control,speed control; Regardless of your age or skill level, Its so easy to use that everyone will want to play it.
Last but not the least on our list is from Everyone Gain. This roll-up drum kit has state of the art settings to bring you a realistic experience of playing the drums.
It has ten drum pads that produce various sounds such as crash cymbals, ride cymbals, hi-hat, snare, toms, and bass. It also comes with two-foot pedals.
Aside from its standard setting, you will be delighted to know that it also comes with nine demo songs and 11 accompaniments. This tool is perfect to get you started practicing on real music. You can also do your own recording or adjust the volume to your liking.
It is very easy to use and can work well with any age but strongly recommended for children. When it comes to portability, the drum kit can be rolled so that you can take it anywhere you like or practice on the go.
One of its key features is its control panel which you can manipulate to adjust speed, volume or change songs.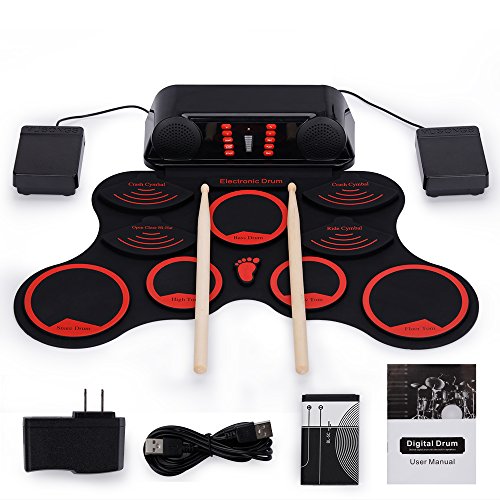 Pros
:
Portable and easy to transport
Easy to use and play
Various sounds produced
Powerful control panel
Great for any age
Recording available
Cons
:
Works with any age but size may be a problem for adults
Not Bluetooth-enabled


Things to Consider When Buying the Best Electronic Drum Pad
Now that we've covered the top three on our list, consider the below helpful tips before you decide on your purchase.
The whole package and its components
Before you buy, make sure that you know what is included in the bundle or package. Some will consist of sticks, drum thrones or even headphones into the set. It is also significant that you know the quality of the inclusions too.
Size of the kit
Another thing that you should note is the size and shape of the electronic drum kit. You may be surprised that there are different sizes and shapes available. It is best that you know the exact measurement of the prospective location of your future drum kit. This way when you canvas for drum kits, you will know exactly how big or small it should be. Plus points if it can be rolled just like the three we mentioned above.
Sound and volume
As you already know, pads produce different sounds and volume. It can be a little louder than usual depending on the pads used. It is best that to go for drum kits that have a volume adjustment feature like the one from Everyone Gain and Aufitker.

Compare featured drum pad kits:


The Verdict: Which Electronic Drum Pad Is Best For You?
Overall, the best electronic drum pad still depends on your needs, preference, and budget. If you want something basic and great for kids, then you can consider the Jacksoo. Not only it is kid-friendly but it also portable. Unfortunately, it does not come with a speaker.
For a more advanced option, the Aufitker and Everyone Gain are great contenders. Both can record music and have a built-in speaker.
They also come with great settings and sound quality. The Everyone Gain drum kit has nifty volume adjustment and has more settings to play.

Editor's Pick!

What are Jacksoo Portable Electronic Kit Owners Saying? >>

Build Quality

Sound Quality

Value Factor