We all need friends, how else could we be in a band?
Here are some of the most interesting and informative music websites on the planet. Enjoy!
---


Careers in the music industry are very rewarding and our mission is to provide unbiased and helpful information on everything there is to know about getting started. Learn more about Melodic Exchange.
---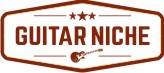 if you're looking for advice on a guitar purchase, or how to make the most of your existing instrument and your playing, check out GuitarNiche.com. Plus there's a TON of awesome guitar t-shirt designs to choose from.
---


At New Violinist, you'll find reviews on beginner violins, beginner violin outfits and accessories plus resources to help you make informed decisions.
---