One of the most popular musical instruments in the world, the drums, form the backbone of many of the tracks you hear on the radio. Drummers maintain the beat and rhythm of a song, which the rest of the track builds on.
But, drummers need the right kit to accomplish this task. Poor drum sets offer bad sound quality that can distract away from the rest of the song. Ask experienced drummers, and they will tell you that they can feel and hear the difference between the best drum set brands and the bad ones.
Some Great Beginner Drum Set Brands: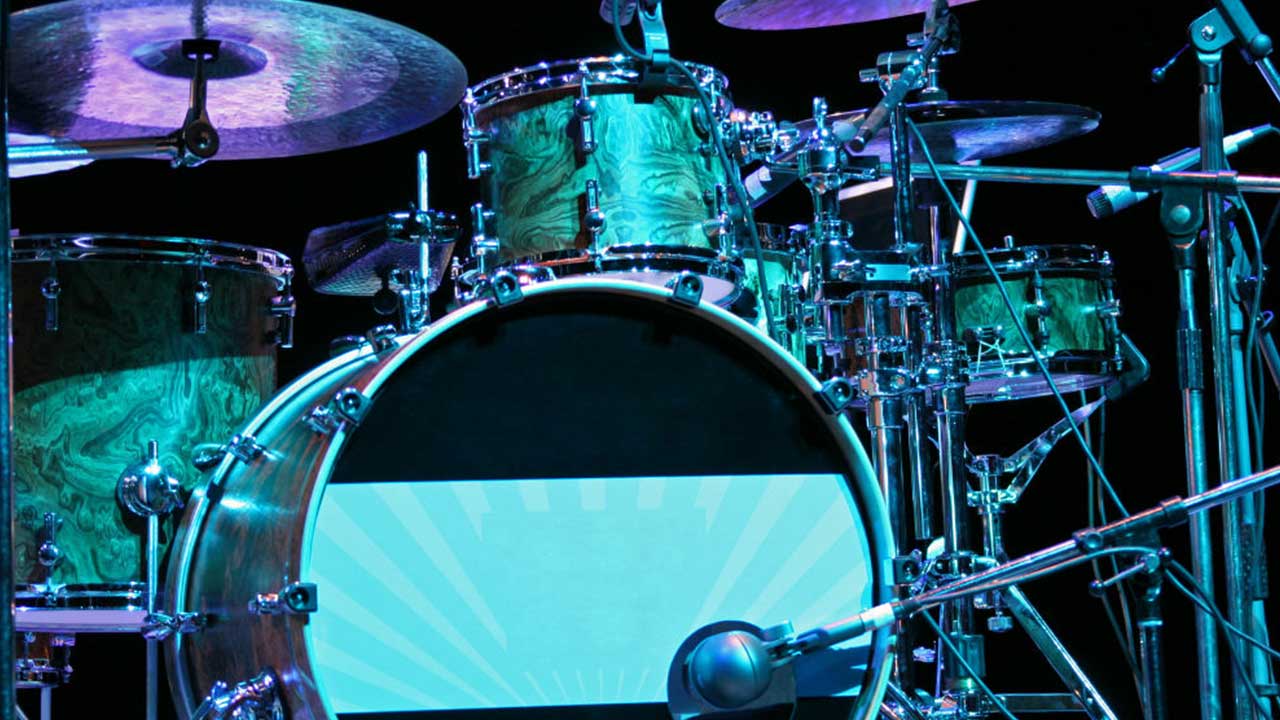 That's a distinction that this article aims to help you make. Whether you're a novice or a seasoned drummer, you can benefit from knowing which drum kit brands available today are best. Let's look at three of the leading contenders.

Top 3 Best Student Drum Set Brands Reviewed!


1. Gammon Percussion Full Size Complete Adult 5 Piece Drum Set
One of the best beginner kits, Gammon's offering, comes with everything you will need to play the drums. You get a five-piece set that includes a 22-inch by 14-inch bass drum. You also receive floor and mounted toms and a 5.5-inch by 14-inch snare drum. Gammon has used wood to build each, producing a meaty sound.
You also receive a hi-hat and cymbals set, all of which come with their own stands. You can choose where you want to position them to get the most out of your drum kit.
The set also comes with a pedal for the bass drum and its own set of sticks. Furthermore, you receive a drum stool and drum key with the set. That means you can get playing as soon as you've set up the kit.
The kit looks the part too. You have a choice of black and blue finishes on the drums, each of which has a high-gloss look. Gammon also provides full support and replacement parts for its drum kits, though you will need to contact the manufacturer to arrange a full warranty.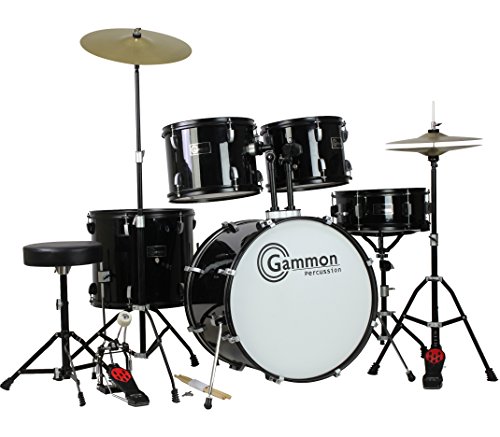 Pros
Comes with everything you need to get started
Okay sound
Ideal for beginners
Easy assembly
Drums feel sturdy when you play them
Low weight makes the drums easy to transport
Cost-effective
Cons
The sound quality is not high enough for professional play.
Warranty does not come as standard, though you can contact Gammon to get it.
Delivery may be problematic and result in damage to the kit before you receive it.


2. Mendini by Cecilio Complete Full Size 5-Piece Adult Drum Set with Cymbals (MDS80-SR)
Another full drum kit, the Mendini MDS80-SR, offers everything a new drummer needs to get started. You receive a five-piece kit that includes a 22-inch by 16-inch bass drum, which you'll notice is larger than the Gammon set. You also receive a snare drum, alongside two tom toms and a floor tom.
Beyond that, you receive a crash cymbal and a hi-hat, with the latter including a chain-drive stand that should withstand constant play. The bass drum also comes with a chain-drive pedal that will endure repetitive use for a long time.
Mendini also wants to make setup as simple as possible. The kit comes with a set of instructions that you should find easy to follow. New drummers, in particular, will learn everything they need to know about getting a kit set up and ready to play. You even get a drum key to help you along.
The company has used cross-laminated poplar shells in its drums. This creates a deep sound that caters for several playing styles. Finally, the kit features an adjustable drum stool and a pair of sticks, so you can get playing straight away.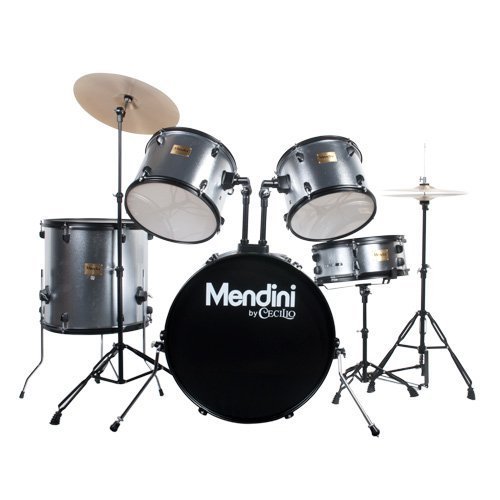 Pros
Comes with a one-year manufacturer's warranty
Easy assembly thanks to the detailed instructions
Full kit comes in one box on delivery
Choice of colors
Standard sizes allow you to make upgrades as you progress
Ideal starter set for a learner
Cons
Bass drum pedal may be too small for somebody with big feet
Drums need repeated tuning and tightening
Cymbals don't match the sound quality of the rest of the kit


3. Pearl Roadshow RS525SC/C707 5-Piece Drum Set
Available in a range of colors, including bronze metallic and jet black, the Pearl Roadshow drum set really looks the part. You get a 22-inch by 16-inch bass drum, alongside a snare drum, two mounted toms, and a floor tom.
One thing to note is that Pearl's mounted toms are a touch smaller than the other two brands on this list. That may present some difficulties to new players, but you'll soon adjust. You also receive a crash symbol and hi-hat with the package.
You should expect quality with this set, as Pearl is one of the world's leading drum manufacturers. They've used nine-ply poplar to build the drums. Each also comes with an attractive covered wrap, bearing the color you select at purchase.
Much like the other kits on this list, you receive a set of drum sticks with Pearl's offering. They even come with a handy bag. But, you will have to buy your stool separately, which may add additional costs, some won't want to absorb.
The kit also comes with a welcome pack that beginners will find useful. You even get a poster, which young novices will appreciate.
Pros
Durable enough to withstand intensive playing
Ideal for novices
Great sound that you can improve further with the addition of O-rings
Most of the drums arrive pre-assembled
Great base for experienced drummers who will later upgrade some of the kit
Cons
Arrives in several packages
No standard manufacturer's warranty, though you can contact Pearl to arrange one
No drum stool


Compare these good drum set brands:


Summary: Which Starter Drum Set Brand Did We Find to Be the Best?
Beginners will find each of these drum sets ideal. But, we believe that Pearl's kit stands out because of its higher quality and the fact that it's easy to upgrade.
But, both the Gammon and Mendini sets offer more cost-effective alternatives. Though their sound pales in comparison to Pearl's kit, they also come with drum stools as part of the package. That makes them both more complete kits for beginners.

Editor's Pick!

What are Pearl Roadshow Drum Set Owners Saying? >>

Build Quality

Sound Quality

Value Factor