Who makes the best electronic drum kit for beginners? With the convenience of electric drum sets, there are lots of choices, but there are only a few that rise to the top. Find out in our review!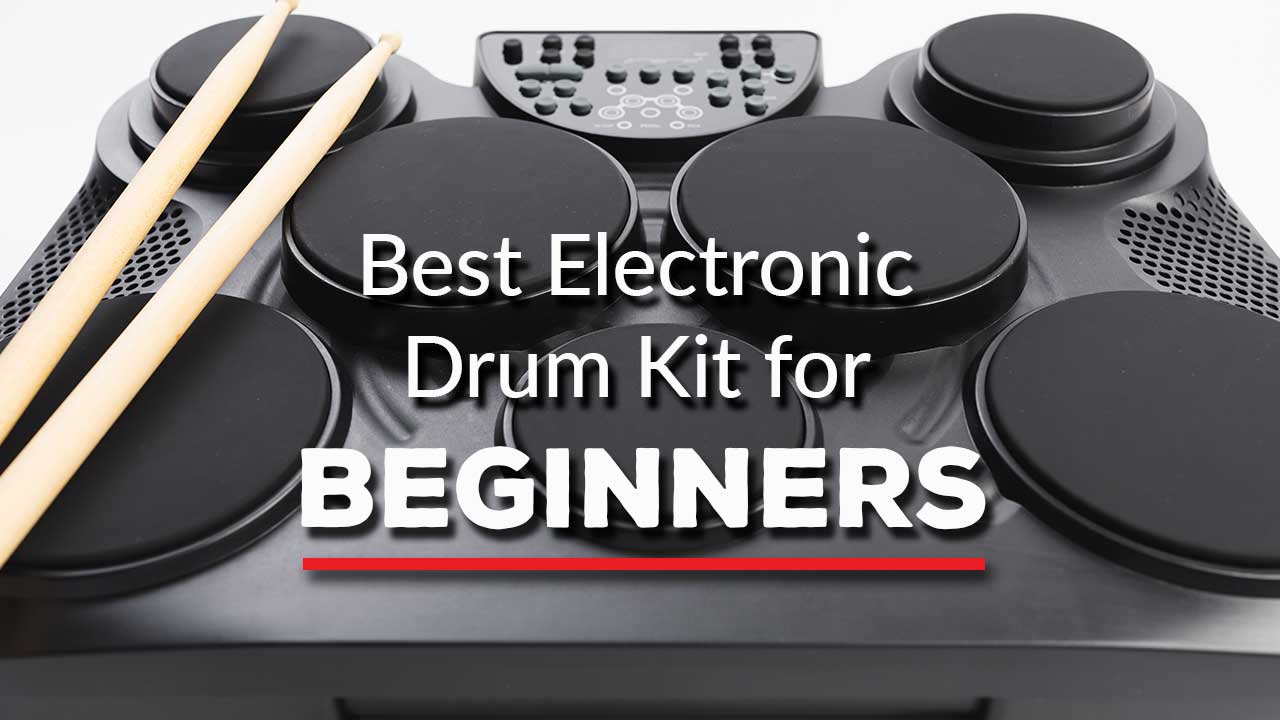 Who Makes The Best Electric Drum Kit For Beginners?
Some great starter electric drum sets for beginners:

With the convenience with the introduction of electric drum sets, your child can have the option to play and practice to his/her heart's content.
An awesome gift for your child to hone skills, especially when musically inclined, is a set of drums. You can just imagine the enthusiasm when the child starts beating that drum set. As a parent, you couldn't be prouder.
But not the same is true your neighbors, visiting friends or even the other members of your own family. Nothing can be more annoying than non-rhythmic drum noise made by a learning child. What more when the child gets the urge to play at night.
Even while practicing, you won't be getting complaints from the neighbors. Earphones make this all possible. That's because the sounds from the various electric drum sets be electronically carried to earphones. Electronic drum sets isolate the sounds, but they also have other great features.
These features make it more worthwhile to purchase. Several brands are out there in the market. Before you decide which brand to purchase, read through all the features. Although the function remains the same, find the features which are best for your child.
We certainly hope you benefit from the information we provide in this article! Just so you know, we may receive compensation if you use the links on this page. If you do, thank you so much!

Top 3 Electronic Drum Kits for Beginners Reviewed!



1. Best Set For Beginners: Pyle-Pro PTED01 Electronic Table Digital Drum Kit
Pyle Portable Drums, Tabletop Drum Set, 7 Pad Digital Drum Kit, Touch...
VERSATILE DIGITAL DRUM KIT: The portable drum set is developed to resemble, sound and play like an actual drum set at a fraction of the size! Play the drums to pre-recorded drum kits and songs or record your own
CONNECT TO MAC & PC: You can connect the drums table to your computer using the USB cable – it'll function as a MIDI controller for your favorite computer software to get even more functionality
PLAY THE DRUMS ANYWHERE: This portable drum kit is powered by the included AC adaptor or you can go wireless and runs on batteries (6 "C" size batteries). Take your drum kit wherever you go
The Pyle-Pro PTED01 kit is an amazing electric drum kit. The features allow it to copy the sounds of a real drum set, without the unwanted bulk. It's lightweight in construction, making it portable but loaded with great techno features. The whole set comes with 7 Drum Pads.
This kit from Pyle Audio has a unique Touch Sensitivity. It has Pedals Pad for controlling the bass and up to 100 songs. All the features will allow you to play drums on pre-recorded songs. You can even record songs of your own.



Pyle Pro Set Pros and Cons
What We Like
The controls for audio configuration allow you to create unique, customized music.
It's portable and wireless so you can bring it wherever you go.
Comes with a USB cable for you to connect to the computer and other devices.

What We Don't Like
Sometimes hits do not register.
Occasional slow response of the pads






2. Best Budget Set: PAXCESS Rockpals Roll Up Drum Practice Pad Drum Kit
Sale
PAXCESS Electronic Drum Set, Roll Up Drum Practice Pad Midi Drum Kit with...
PORTABLE AND PROFESSIONAL DRUM: Includes 1 SNARE, 3 TOMS , 1 CRASH, 1 RIDE, 1 HI-HAT; 2 Foot Pedals play sound of Bass Drum; 5 Timbres; 8 DEMO Songs; 3 Rhythms
RECHARGEABLE BATTERY: This drum is powered by a 2400mAh rechargeable battery, up to 10 hours playtime per charge, You will be able to take it with you anytime anywhere even play outside
EARPHONE JACK: By wearing a set of headphones while you play you can be as quiet as a church mouse while rocking out like you're playing Madison Square Garden. Not only do they make practice quieter, but electronic drums also make practicing more efficient, perfet for privite practice or late night playing
This PAXCESS roll up drum set is ideal for beginners. With this, your child can have learning sessions without disturbing the peace. It has high-quality built-in speakers. It also has a variety of acoustic drums. The earphone jack will allow your child to practice quietly.
You can connect the Rockpals drum set to a computer so it can play any drum game. A rechargeable battery powers the drum set and it offers up to ten hours of continuous play.\



Paxcess Kit Pros and Cons
What We Like
It's a portable drum set with professional features.
The battery is rechargeable and can operate for up to 10 hours when fully charged.
Comes with a jack for the earphones and a speaker that's built-in.

What We Don't Like
Sounds might come out distorted at times.
Some customers have complained about the battery life.







3. Best Premium Set: Alesis CompactKit 4
Alesis Compact Kit 4 – Tabletop Electric Drum Set with 70 Electronic /...
All-In-One Drum Set: Ultra-portable 4 pad electronic drum kit with built in powerful speaker and dedicated headphone output for private practice
Authentic Drum Kit Response: 4 velocity sensitive electric drum pads guarantee to capture every subtle nuance of your performance
In-Demand Sound: 70 electronic/acoustic drum kit voices, 10 effect voices built in and 50 play along songs to develop your drum skills
The Alesis CompactKit 4 electric drum set is ideal for beginners but it's still loaded with special features. This is unique because it includes built-in learning tools. In coach-mode, the unit will teach you basic styles and patterns for drums.
Even without any previous training, the visual indicator on the Alesis set's LED screen makes it achievable to teach you on basic drum skills. This kit has 4 pads which are velocity-sensitive, providing realistic sound. It has percussion voices, effect voices, and songs to play-along.



Alesis Compakt Kit Pros and Cons
What We Like
The level of difficulty in is adjustable.
It's a lightweight drum kit can be set-up and carried around easily.
You can plug this in or use it with batteries.

What We Don't Like
Doesn't come with a minimum volume option.
The plastic material doesn't seem very durable.






Compare These Best Starter Electronic Drum Kits:
Let's compare the three electric drum systems, highlighting each one's uniqueness.
The Pyle-Pro PTED01 Electronic Table Digital Drum Kit is for those who already have some sufficient knowledge on playing drums. Of the three, it offers the most advanced features.
It has recording functions, where you can achieve editing and processing of music on the spot. It also can encourage creativity as the kit allows the user to build his/her own library of styles.
The PAXCESS Rockpals Roll Up Drum Practice Pad Drum Kit is portable and can be easily set up for playing. You can connect it to your PC to play games.


But, if you intend to use this model to record music that you produce, then look for another electric drum set. That's because this one has no support for this function.
The Alesis CompactKit 4 has two unique features that make it a class all on its own. First, it has a built-in game feature. This brings an added measure of fun to the experience of learning how to play.
Second, it has a coach-mode feature which displays notes on the LCD monitor. This teaches the user how to play along with the built-in sounds and songs.


Conclusion: Which Is The Best Electronic Drum Kit For Beginners To Learn On?
Overall, the Pyle-Pro PTED01 Digital Drum Kit is our pick for the best electronic drum kit for beginners. The performance of the drum set is high in efficiency and quality. Plus it's convenient enough to be portable when not in use.
The Rockpals Roll Up Drum Kit is the most recommended for beginners. But it may be a bit too much on the lower end to be taken seriously by an aspiring drummer as Its ease of setting up and size is best for young kids.
The Alesis CompactKit 4 has unique features that make it a class all on its own. The Coach-mode perhaps is the most outstanding feature of this model. This mode displays the notes played on the kit's LED monitor. It teaches the user how to play along with the built-in sounds and songs. It also is a great buy, perhaps for kids higher up.
The feature which allows the user to record, edit and process music is for pros. These are some of the best electronic drum sets for beginners. Now all you have to do is choose the right one for your child.

Editor's Pick!

What Are Pyle-Pro Digital Drum Kit Owners Saying? >>

Build Quality

Sound Quality

Value Factor