Great beginner snares at a glance:
The best beginner snare drums are great tools that can be played on their own, or used as perfect instruments for practicing. Find out which one is right for you.
Snare drums are an essential part of any drum kit as they dictate the tempo of the drum solo. They serve as a timing tool that drummers use effectively. The best snare drum, in actuality, goes beyond the drum kit as a whole. It can be played on its own, with a pair of cymbals, or slung over shoulder and played in a marching band.
The list of uses that a snare drum has, the scenarios and musical arrangement to which it can fit in is not necessarily broad, but they are enough to justify starting your drum set with the best snare drum kit that money can buy. Some of them come packaged with drumsticks, stands and even cymbals.
Three Snare Drums Thrumming Up A Storm
1. ADM Student Snare Drum Set
Sale
ADM Drum Set (GS81)
QUALITY beginner Chrome snare drum
pad case sticks and stand included
Note: the stand is 2.5 ft tall. It's standard SIZE stand for players to sit by. With strap, you can also play Our durm without sit. Affordable way to start playing
The ADM Student Snare Drum Set is a beginners drum kit that comes with a 14″ x 5″ steel snare drum. Some of its key features include:
ADM Snare Drum comes with a hairline nickel finish which adds to the responsiveness of this student's drum.
The drum itself is measured like any full-sized drum which can provide a positive real-drum experience for student drummers. The included stand is measured at 19 inches, adding the drum makes the total height at 26 inches, the standard height for snare drums in professional drum kits.
This ADM Snare Drum comes with a rubber practice pad which reduces the sound produced making it ideal for practicing at home or any other area where reduced noise is required.
Adjustable Shoulder Straps
ADM Snare Drum comes with soft straps that can be adjusted to fit any body type.
This drum comes in a portable, padded backpack that lets you carry the snare kit around, be it to a gig or band practice.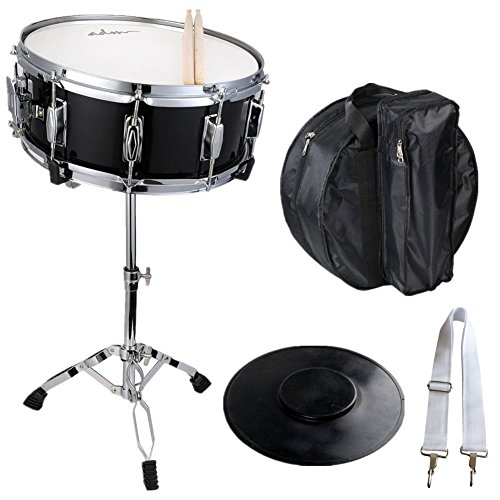 Pros
Rubber cover mutes the drum sound letting you practice anywhere without having to worry about disturbing others
Great tool for learning how to play the drums
Produces good sound quality
Can produce sharp and loud sounds when used without the rubber pad
Cons
Stand may be a little short for adults or bigger kids but perfect for setting your young ones in a musical way
Stand feels flimsy and may seem ready to fall over even with its three legs
Adjusting the stand is a challenge.
Snare head breaks sooner or later, and a better replacement should be ordered ahead of time
---
Manufacturer Info:
Website: http://www.alldaysmusic.com/
About: At All Days Music, our mission is to deliver a better value for your investment.
2. Mendini Student Snare Drum Set
The Mendini Student Snare Drum Set is another beginners drum kit that comes with a stand and a pair of wooden drumsticks. This student snare drum kit comes with the following features:
The Mendini Snare measures 14″ x 5.5″ which is the regulation size for snare drums.
This snare drum comes with a 30-inch stand with ten lugs. This is the average height for snare drum stands that fit users of all ages.
The Mendini Snare Drum comes with a rubber padding that mutes the sound of you practicing late at night.
This snare drum kit also comes with an adjustable neck strap for carrying the snare out into the field.
The Mendini Snare Drum comes with a padded gig bag that lets you bring it anywhere.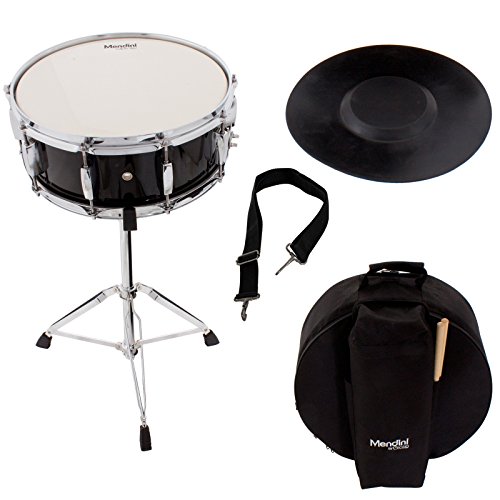 Pros
Excellent sound
Lugs help keep the drum in tune
Rubber padding lets you practice anywhere
Replaceable Snare head allowing you to modify the sound quality of this snare drum
Cons
Stand is a little heavy to lug around
Stand can be a little higher than standard although still playable with a full set of drums
No clear instructions to help you set up
Gig bag is poorly made, and the zippers break easily
---
Manufacturer Info:
Website: http://www.ceciliomusic.com
About: The Mendini brand is manufactured by Cecilio. Based in California, Cecilio provides musical instruments that inspire musical talent with quality and value.
3. Griffin Snare Drum
Snare Drum by Griffin | Black Hickory PVC Glossy Finish on Poplar Wood Shell 14" x 5.5" | Percussion Musical Instrument with Drummers Key for Students & Professionals | 8 Lugs & Deluxe Snare Strainer
ACHIEVE THAT BRILLIANT ATTACK YOU'VE BEEN CRAVING: Have you been looking for that perfect sounding snare drum that would offer you a brilliant, powerful crack with beautiful overtones? Well, your search is finally over! Boasting a 3-ply, 7.5mm, 100% poplar wood construction, this snare drum will match any music style including rock, metal, funk, gospel or even pop and give that punchy, penetrating sound you've been looking for, perfectly complimenting your playing.
UPGRADE YOUR DRUM KIT'S STYLE: Its exquisite, Black Hickory shell wrap with simple, high-gloss finish that is simply gorgeous to look at and the unrivalled craftsmanship make this deluxe musical instrument a worthy addition to any drummer's collection. An excellent choice for beginners, students or professional musicians, this 14" x 5.5" snare drum can be easily used as a primary or secondary snare. Drum head top: White coating. Drum head bottom: clear.
CLASS-LEADING THROW OFF: Equipped with a top notch, smooth and quiet drum throw off that promises flawless operation and a fluid movement every time, this drum throw off will allow you to easily tighten, loosen or mute the snares according to your preference, without failing or locking up! Specifications: Snare wire: 10 strand. Hardware finish: Chrome. Gross weight: 6 pounds.
The Griffin Snare Drum is a student's snare kit that is designed with a poplar wood shell and glossy finish. It comes with a pair of wooden sticks as well as the following key features:
Quality Materials and Finish
This snare drum by Griffin is made using 3-ply, 7.5-mm poplar wood as the exterior shell and a glossy PVC finish.
The snare drum itself measures 14″ x 5.5″ and can fit in any standard drum set.
The Griffin Snare Drum comes with tuning lugs that let you tune it without any hitch.
This snare drum comes with a quiet drum throw off that lets you tighten or loosen the snares to your preference.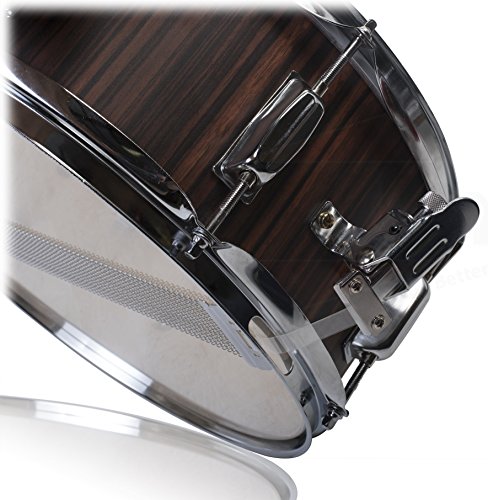 Pros
Thumps like a whip
Produces good-quality sound with every beat
High-quality materials
Can be repurposed with a new head to create a professional snare drum
Can be tuned high or low and will still produce that characteristic snare beat
Perfect for beginners and students
Nice alternative to more expensive professional snare drum kits
Snare head and wire modifications are all this snare drum needs to sound more professional and easy to the ear
Cons
Does not come with any instructions or any information about the product at all
Snare throw-off is a little off-putting and flimsy, but a quick adjustment with the snare wires can do the trick
Snare drums rattle a bit from the bottom and might need adjustments from time to time
---
---
Manufacturer Info:
Website: https://griffin-stands.com/
About: The Griffin brand is built upon reliable service, economical products, and top-notch customer service. Griffin aspires to build its reputation upon reliability, in turn earning respect among new customers and a relationship with repeat customers.
Compare these snare drums:
Our Pick for The Best Snare Drum
Out of the three listed snare drum kits, the Griffin Snare Drum is the clear option when it comes to producing great-quality sound while sporting a classic wooden shell finish. The eight lugs let you tune this snare drum quickly and easily, while the heads are made of quality membranes that respond beautifully to the sticks. The throw-off is a nice addition as it allows you to tighten, loosen, and even mute the sound as you go.
Snare drums offer a characteristic beat to any song. If you love a good rhythm, then learn how to play and master it at any age as it is the gateway instrument to the amazing world of percussion. What are you waiting for? Pick up a pair of sticks and start hitting that beat!