Great kids drum sets at a glance:
The best drum set for kids should be small, but relevant.
Children have the opportunity to study virtually any sort of discipline in their earlier years. Be it literature, science or arts and crafts—kids have the ability to assimilate new information quickly. Music, in general, is a passion that's shared by most people around the world.
Children have a lot of energy, so drumming seems like a good way for them to break into the music world.
There's a lot of things to consider before making a decision, the most critical one of these factors being the set's complexity. This term refers to the number of elements that comes with the drum set purchase. Typically, a "complete" set should have a snare drum, two tom drums, a bass drum and some cymbals. It's important that even a beginner's drum kit features some variant of this basic setup to reflect a real-life experience, making for an accurate learning process.
Sale
PAXCESS Electronic Drum Set, Roll Up Drum Practice Pad Midi Drum Kit with Headphone Jack Built-in Speaker Drum Pedals Drum Sticks 10 Hours Playtime, Great Holiday Birthday Gift for Kids
PORTABLE AND PROFESSIONAL DRUM: Includes 1 SNARE, 3 TOMS , 1 CRASH, 1 RIDE, 1 HI-HAT; 2 Foot Pedals play sound of Bass Drum; 5 Timbres; 8 DEMO Songs; 3 Rhythms
RECHARGEABLE BATTERY: This drum is powered by a 2400mAh rechargeable battery, up to 10 hours playtime per charge, You will be able to take it with you anytime anywhere even play outside
EARPHONE JACK: By wearing a set of headphones while you play you can be as quiet as a church mouse while rocking out like you're playing Madison Square Garden. Not only do they make practice quieter, but electronic drums also make practicing more efficient, perfet for privite practice or late night playing
Paxcess is a company that's set on delivering mobile tech products, making it a great choice for the first entry of this best drum set for kids product roundup. They come with a product that provides both the child and parents with a space-saving, somewhat accurate alternative to real-life drum kits. Their roll-up practice pad midi drum kit is designed to emulate the real experience. It features nine elements, from left to right:
A high hat pad (cymbal)
A crash (cymbal)
A snare drum and three toms (drum)
A ride (cymbal)
Two pedals for the bass drum
While the bass drum pedals have to be connected to the back panel, the rest of the elements are featured on a roll-up pad. The elements are connected to the midi device. For those unfamiliar with the MIDI term, it means musical instrument digital interface. This means that, rather than have the device store a big number of present tones; the user can connect it to a PC and assign its elements different types of sounds.
While that's somewhat limiting with keyboards and might be a problem for average users, the Paxcess Roll Up Drum Practice Pad Midi Drum Kit drum kit comes with five different tones pre-installed, eight demo songs and three different rhythms, so children can have quick access to some drumming patterns for easy practice.
The pad can be rolled up for convenient storage and transportation. The control panel also houses the speakers and the battery, so the whole device is pretty compact. It supports USB connections and a 3.5mm audio jack for MP3 playback. These are both useful for practice tracks. Headphones can also be connected via the 3.5mm audio jack, so it can be a very quiet practice tool.
The Paxcess Roll Up Drum Practice Pad doesn't feature big drawbacks, but they should be mentioned. The 2400mAH battery is rated to work for up to 10+ hours, but this number is very inconsistent while fully operational. For example, the battery will last close to its rated 10-hour level, but only when practicing without tracks. The battery will last around 1-2 hours, so it should be charged after every session.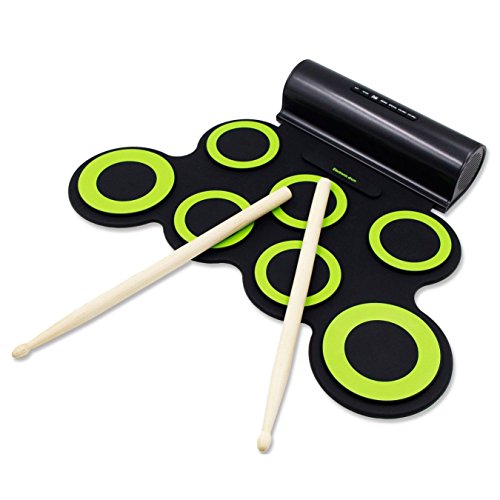 Pros
Very compact setup
Supports connectivity for outer sources, adding more tones and tracks for better, more comfortable practice
Runs on battery, making it highly portable, great for practicing on the go, at camp, during school breaks
Features a somewhat complete drum kit
Cons
Battery life is inconsistent
The fact that it is two-dimensional by nature means that the layout of the kit isn't an accurate representation of a real-life setup
The feedback provided by the pad isn't consistent with the one present in acoustic drum membranes and cymbals
Classic Rhythm Toy Jazz Drum Big XXXL Size Children Kid's Musical Instrument Toy Drum Playset w/ 5 Drums, Cymbal, Chair, Kick Pedal, Drumsticks (Red)
Great for developing skills for children: helps develop important skills and hand eye coordination · inspire children to create music and learn musical skills.
Complete toy drum playset: includes everything needed, drums, cymbal, drumsticks, chair, kick pedal · drums include bass drum, 2 large tom-toms, 2 small tom-toms.
Recommended for children ages 3+ and up: approximate drum set dimensions: 32 x 26 x 16. 5 inches · easy to assemble · no tools required.
The Vokodo Kid's musical instrument toy drum playset is a pretty interesting choice. The previously featured product was more of an actual drum kit, while this one is a playset. This means that, while it does provide some actual functionality, its main use is to help children accommodate a future, real drum kit.
The Vokodo Kid's Toy Drum Playset is childproof, made using abs plastic, toxic-free paint, and aluminum, so that kids won't be put at risk if left unattended while practicing.
The elements aren't very well represented, and the size ratio is a bit off. At first, this might seem a bit unpleasant, but the manufacturer has designed it in a way that a child doesn't find it uncomfortable to reach all of the elements while sitting on the drumming chair.
Admittedly, the build quality isn't the greatest, so it won't really stand the test of time. It's good for children between three and six years, but children that are bigger than that can probably something closer to the real deal. Additionally, the membranes are pretty frail, so children that get a bit too excited can easily tear them apart. It's hard to find membranes that are dirt cheap and also fit this toy drum kit.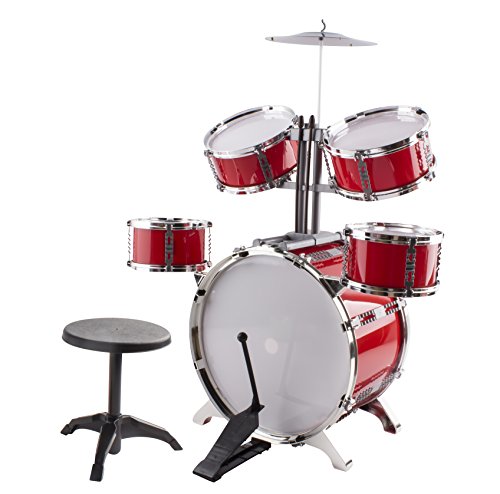 Pros
It's made using childproof materials.
It's a good entry-level toy, to help kids become more familiar with the big concept.
Cons
The build quality isn't that great
Membranes can't be replaced if damaged
The last item on the roundup is another Vokodo drum playset. This is more or less the same drum set, just bigger. One aspect that's different and easy to spot right off the bat is the design choice. Red, with plenty of stars and a glossy finish, it might not please all little boys.
Moving on, in addition to what's featured by the previous Vokodo 13 PC Musical Instrument Drum Play Set, this one has two extra cymbals and two extra drums.
This might be good or bad since it's more representative of a real drum set but does occupy a bit more space. Other than that, the materials are exactly the same used in the Vokodo Kid's Musical Instrument Toy Drum Playset (abs plastic and aluminum).
Something important to mention is, while the build quality isn't the best, the fact that it has six drums means that some can act as spares, the child being able to play with it longer before rendering it unusable.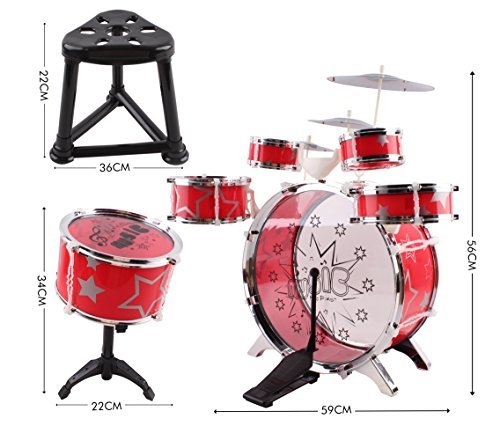 Pros
It's made using childproof materials
It's a good entry-level toy, to help kids become more familiar with the big concept
Cons
The build quality isn't that great
Membranes can't be replaced if damaged
Compare these drum sets:
Best Drum Set for Kids: Conclusion
The conclusion of this roundup is pretty straightforward. Out of these three products, the best drum set for kids is the Paxcess Roll Up Drum Practice Pad Midi Drum Kit. It provides the most functionality by a long shot.
Because it's small and portable, it's great for parents who would like to make other use of some extra space. Even better, the fact that it can output the audio signal to a pair of headphones make it a great choice for indoor use.
Lastly, the best feature is the fact that it provides actual exercise to the kids. It has an interactive way of working since it can also play songs, connect to a PC and act as an interface for drumming games and is a lot more durable than the other two entries, making it the best value choice out of the three.