Choosing the best drum set for a new percussionist starts with good information. Help yourself make a better informed decision with our in-depth expert buying guide!



Choosing the Best Drum Set for Beginners

Starter Drum Sets Comparison Chart:




The following drum sets are what we feel to be the best drum sets. They were chosen based on the quality of delivery and their efficiency to perform for a long time.
The quality of sound and their versatility were also taken into consideration.
We certainly hope you benefit from the information we provide in this article! Just so you know, we may receive compensation if you use the links on this page. If you do, thank you so much!



Our Top Picks For Beginner Drum Sets






Best Children's Set: Mendini 13 Inch 3-Piece Kids / Junior Drum Set

This Mendini brand set is a smaller drum set which is designed for children between three and eight years old.
The drum set is meant to give a general feel to children who show an interest in playing the drums.
The bass drum has an eight-inch diameter while it has one mounted tom with a diameter of six inches.





The seat is adjustable and the drum set will be useful as the drummer grows in age. The set comes with a snare and a cymbal.
This is a junior set that produces the correct pitch and tone.
Young children will enjoy and have a good musical foundation using this set. The set also comes with light and wooden drumsticks.





The product's size and height are just right to create better beats and rhythm. The product is of sturdy composition.
The drum set is shock resistant and the rhythms created have accurate pitch and tone.
The drum set has a snare, a tom which is attached to the bass drum, and a cymbal. The rudiments of rhythm are easily learned with the product and are very educational.
The product is not good for use of children above five years as the child begins to be too big for the size of the set.
The stands tend to wobble and the snares have to be tightened regularly. The hardware is not reliable and tends to loosen its grip.



Mendini Drum Kit Pros and Cons


What We Like
Drum shells made of wood
Strong and able to withstand impact
Good for children aged 3 to 8 years
Includes bass drum, mounted tom, bass drum, and a cymbal
Includes adjustable drum throne
Bass drum includes pedal
Easy to assemble


What We Don't Like
Constantly needs tuning
Needs to be tightened regularly
Drum heads tend to crack





Find out more in our complete Mendini 3-Piece Kids Drum Set Review >>


Most Durable Full Size Beginner Set: Best Choice Products 5-Piece Adult Drum Set

This Best Choice brand is a beginner's drum set and includes all the essential tools needed for a starter's kit.
The set is a five-piece set and the drums are made of quality wood.
The coat is smooth and has black and silver accents. The drum produces a good sound and will not need tuning.







The drums are made of quality materials and produce accurate pitch and tone. The drum head is made of plastic that makes the beat resonate well.
The diameter of the cymbals is 12 inches and is good for crashing. The hi-hat cymbals have well-made pedals and are connected to the instruments by a tight chain.
The instrument is stable and will perform well during recitals. This is a product that is great for beginners and will help to make the learning process easier and more efficient.
The tonality of the drums is accurate and there will be no need for returning the product.

The skin is responsive, which helps the new user to have easier practice sessions.
The product is durable and can be used for years. The manufacturer has an efficient customer service facility and responds quickly to emails.
However, if professionals try to use the product, they will be disappointed because the unit is not intended to give a big range of pitches.
The advanced user will get frustrated with the basic nature of the product.





Best Choice Drum Set Pros and Cons


What We Like
Good for beginners
Reasonable sound quality
Pedals are chained to the hi-hat and bass drum
Complete set and ready to use
Can be assembled easily
Set is complete with snare, bass, toms and cymbals
Made with high-quality wood and black coat


What We Don't Like





Interested in more? read our full Best Choice Products Complete Adult Drum Set Review>>


Best Starter Electronic Kit:
Alesis Nitro Eight Piece All-Mesh Electronic Drum Kit

Established in 1984, Alesis is a highly respected electronic musical instrument manufacturer. They're well known for producing digital audio interfaces, mixers, drum machines, recording devices, and other professional audio equipment.

Over the past few years, they've introduced their electronic drum kits and have found success among enthusiasts.
Their electronic drumkits are now reaching a global success.
Alesis' Nitro Mesh Kit comes with an 8-inch dual zoned snare giving you dynamic control over what sound to play. And also comes with three single-zoned toms and three 10-inch cymbals.




Every Alesis Nitro Mesh kit has a kick-pad tower with pedal and hi-hat pedal. Included is an audio processor called In-Demand Sound | Nitro Drum Module featuring 40 kits and 350 different sounds.





Alesis Mesh Kit Pros and Cons


What We Like
Using headphones or earbuds, you won't bother anyone while practicing at night.
The Kit comes with cymbals, kick pads and pedals, mounts, snare, and toms.
Includes a processor packed with lots of tricks.


What We Don't Like
Does not come with a drum throne.
Might not be the best drum set for live performance.







What Do Alesis Nitro Mesh Electronic Drum Kit Owners Think? >>




Manufacturer Info:
Website: https://www.alesis.com/






Best Quality Complete
Set: Pearl Roadshow 5-Piece Drum Set

Pearl Roadshow 5-Piece Drum Set
Complete Drum Set -The Pearl Roadshow drum kit comes complete with everything you need to start...
Set Includes-22x16 bass drum, 14x5.5 snare, 10x8 & 12x9 rack toms, 16x16 floor tom, cymbal...
Hardwood Drum Shells and Triple Flanged Steel Hoops-6-ply 7mm Poplar hardwood shell and a hand...
The Pearl brand offers high quality affordable drum set models with high user-satisfaction ratings. For years they've been a popular choice amongst musicians of all levels.
Though they may be easy on the pocket, they're very much on on par with several high-end brands.


Pearl Roadshow Set Features
The Pearl Roadshow Drum Set is ready to go straight out of the box. You get a highly durable drum set that comes with 9 ply poplar, 7mm shells.
The drum set also includes a 22″x16″ bass drum, 16″x16″ floor tom, 10″x8″ tom, 12″x9″ tom, and 14″x5.5″ snare drum.
As a complete drum set, you can expect to get a double-braced cymbal, hi-hat, and snare stands included with the kit. You also get a stick bag, sticks, and a cool poster!
Overall this is a great set for both beginners and professionals. Pearl Roadshow makes for a superior set for dedicated practice while honing your skills.




Pearl Roadshow Pros and Cons


What We Like
Poplar shell construction
Highly durable
Includes 5-pieces
Ready to use out of the box
Comes with additional hardware – cymbal, snare stands, sticks, and a stick bag
Great for both beginners and professionals


What We Don't Like
Initial setup can take around 2 to 3 hours
Doesn't come with assembly instructions, you must visit their website to get them
Cymbals are not the best quality





What Do Pearl Roadshow Kit Owners Think? >>


Manufacturer Info:
Website: http://pearldrum.com/





How to Choose Your First Drum Set: Buyer's Guide


Drum Basics
Drums are part of a group of instruments involving percussion. Drums themselves have at least one "membrane" call ed a drumhead or skin (the part you hit), stretched tightly over a shell that supports it.
You can use your hands, a mallet, brushes or sticks to produce sounds of various kinds.
Drums can be played on their own as a singular instrument, think of a djembe or cajon, or assembled into a collection of various percussion pieces called a kit or a drum set..
Playing the drums is both fun and engaging. A person who is passionate about drums is someone who has an interest in percussion and the rhythm that is created by instruments that involve hitting or banging a membrane or disc.
This is what entails in playing the drums – a movement required to hit an instrument to be able to produce a beat.


What Should I Look for in a Good Drum Kit?
As mentioned, beginners may find selecting the first drum set jam packed with numerous things to decide on.
The task will entail a lot of considerations and an understanding of how a drum set is used.
The type of drum will rely heavily on the type of music that the player wants to create.
A jazz drummer will be able to play with a simpler drum set while a heavy metal drummer will need bigger drums and more bass drums.
Another point to consider is the drum head or the skin. The skin is the plastic surface that is hit to produce a sound.
The type of head and the texture of the skin will determine the type of sound produced.
A head that is thicker will produce a sound that resonates less and is deeper.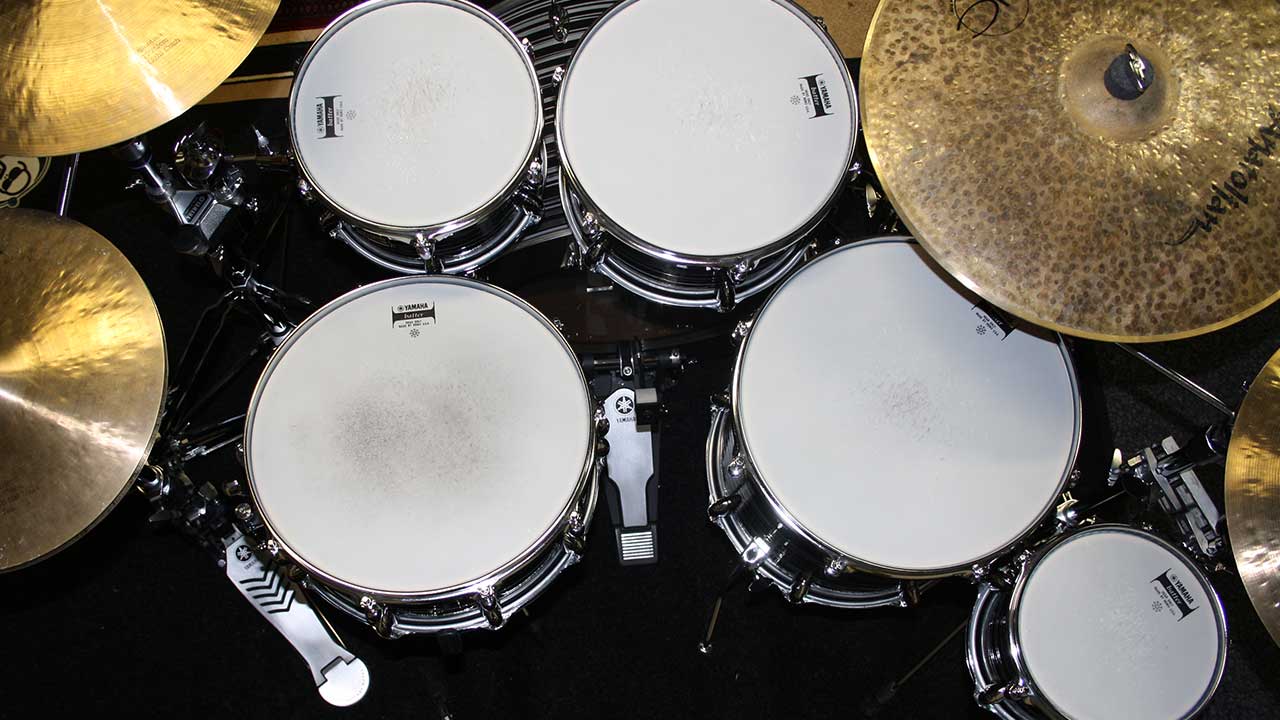 The head with a thinner skin will have a more resonating sound and is more versatile. The sound will be less deep but more versatile because quieter rhythms can be played.
The user must also choose a drum set with good wood structure. The drum shells, or the body of the drum, are made of wood.
Higher quality wood, such as maple or mahogany, produce a sharper and more pronounced sound than those made with cheap wood.




The brackets, stands and pedals should also be of good quality. The hardware is what holds the set together and should be structurally sound to make the drums stay intact while they are being used.
The throne, or the drummer's seat, should be adjustable and sturdy. The drummer is expected to sit on the throne for a long time and the user should make sure that the legs and feet of the throne hold well.
The drummer should never use a computer chair or a typical stool to play.
This is because computer chairs will restrict the movement of the drummer and will be too high for the drummer.
Do you want acoustic or electric drums?
While acoustic drums offer a traditional tone and physical response, there is the problem of acoustic volume. They can be loud and require either a completely separate room, or specific practice times.
By comparison, electronic drum sets offer a convenient flexibility over volume control and sound shaping.
But it comes at a price, they can feel different from natural acoustic kits, plus the electronic components must be robust enough to take the continuous shocks.


What is the role of the drums?
In an orchestra, the percussion is the backbone of the entire group of instruments. This is because percussion instruments, like the drums and cymbals, are the backbone of the entire ensemble.
Percussion is the spine of the entire piece and without it, the song is without direction and will sound lifeless. Drums serve the same purpose in a band.
The drums keep the entire band intact. All other instruments follow the rhythm that is set by the drums.
Without it, all other instruments will play in a different tempo, and the entire piece will be out of sync.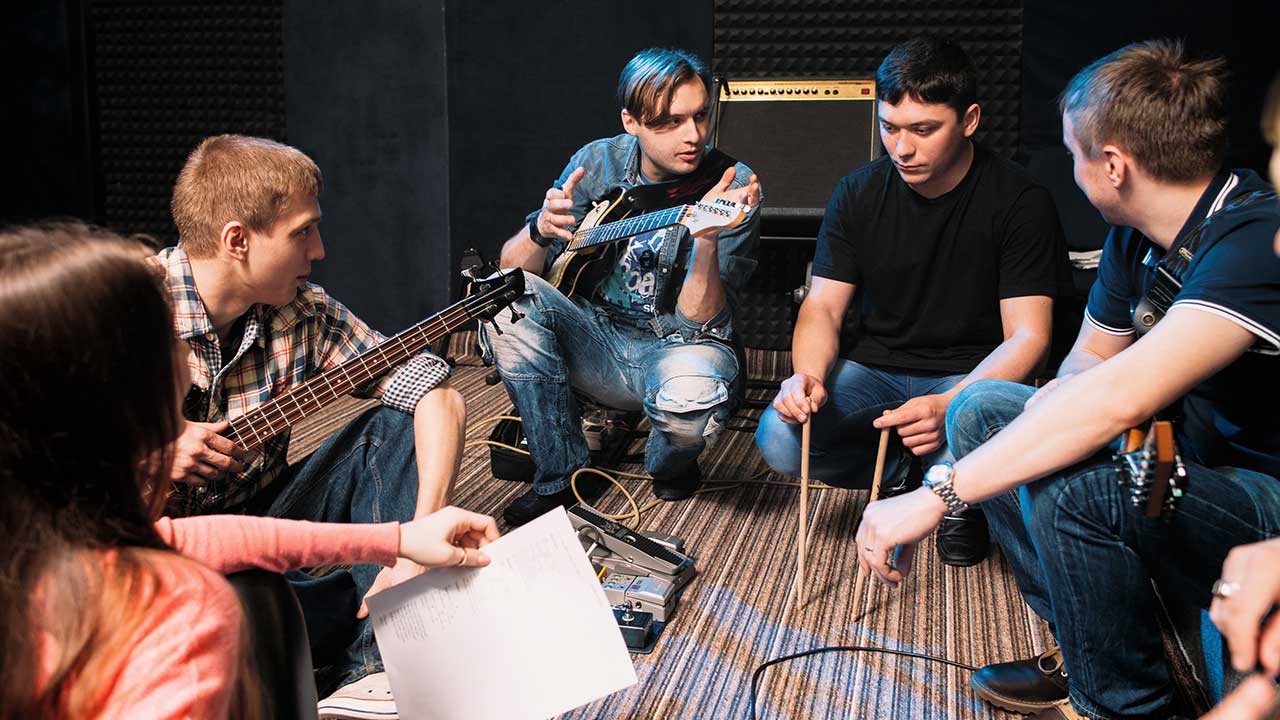 The bass guitar relies heavily on the drum and is considered its partner because the drum's tempo sets the rhythm of the bass guitar. Other players in the band follow the drummer's lead.
The drums give life to music as the heartbeat gives life to a person. The drums are important in making the song full of pulse and the speed of the music makes the listener enjoy the song more.
Drummer's solos are a treat and are considered very important parts of the song.
The crash cymbals produce a loud clanging sound and are often accompanied with a strong kick to the bass.


Quality and price range
Quality intermediate drum sets are usually priced around $500. For upper level professional types, drum sets can start as high as $2,000, plus the cost of accessories such as extra cymbals.
For beginner percussionists, it would be best to bring a friend along who has experience with drum kits.
Having someone with you who can make qualified judgements will help greatly in choosing an entry-level kit and avoid making a regrettable purchase.
Also, keep your price range to yourself so as not to tip your hand to a dealer.
They will probably make an intuitive guess you are in the beginner market, but you can avoid excessive pricing tactics if the drums do not have an obvious price tag displayed.


Remember, Becoming an Amazing Drummer is a Matter Of Practice and MindSet Too!




Set your budget
Set a budget based on how you'll use the kit. Will you use it as a hobbyist, or as a means for a more serious future career?
Do your research and look for options that you would want for your drum set, the variations can be very broad. This is where our excellent buying guides come in handy.
Resist the urge to change your mind just because the shop does not have one that fits your price range.
And don't let yourself be pressured to make a buying decision. Take your time and check out other shopping options to find the best drum set for your budget.
Make a smart decision, learn what you need to know about the various features of the best beginner drum set for you.


Parts of a Drum Set
There are many variations of the drum. These are common types that are seen in a drum set regardless of the purpose that it is used. These drums are the snare, bass and hi-hat.
The snare drum is the center of the set. This is the drum that is located between the drummer's knees and produces the strongest sound. The drum is mounted on a stand.
The sound produced is high and striking. The snare drum is called such because there are strands of snare wires at the bottom of the drum that vibrate with the drum head when it is hit.




The bass drum is the biggest drum found at the center of the set. It is the drum that is also called the kick drum because it is operated by use of a pedal that is pushed by the right foot.
The bass drum produces the most basic feat or the first thump in a measure four beats of a whole note.
The bass drum produces a deep thump and is the lowest pitch of all drums. When a drummer uses double bass drums or two bass drums, the music is heavy metal.
The hi-hat is a set of two cymbals that are tapped by a stick or clapped by a foot pedal. This type of cymbal is mounted on a stick.
The cymbals clap when the pedal is stepped on and release when the foot is not pressing on the pedal.
The hi-hat can also be struck with a stick but drummers prefer that the hi-hat is operated by foot so that other drums like toms and snares can be hit simultaneously.




What are the other parts of a drum set?
Other drums that come in the set are called toms. Hanging toms are placed above the bass drum and are supported by a tube and screws. The floor tom is mounted on the stand as is placed near the cymbals.
Toms are drums with a clear head and are used without snares. They are played with sticks and are used in fills and rolls.
Each tom produces a different pitch and some drummers use many toms for variation and style.
The cymbals are important in the set and usually come in two types. These are the ride and crash cymbals.
The ride cymbals create a gentler effect or what is termed as "wash". The crash cymbals produce a loud clanging sound and are often accompanied with a strong kick to the bass.

Final Thoughts and Recommendations


Our Top 3 Picks!
All things considered, a new drum student's best bet would be the Gammon Percussion Full Size Complete 5-Piece Drum Set. It's cost effective and provides the best overall value.
Choosing the right drum set will need a conscientious assessment from the buyer. The drummer must know his musical style and get the set the is most appropriate for the technique that is to be used.
There are sets that are more versatile and are made for a wider variety of styling, which is recommended for beginners who have not yet fixed to a specific musical genre.
Playing the drums and learning to perform is a skill as well as an art that players should have the patience to understand.